Steve Olson, Bridge Interim Pastor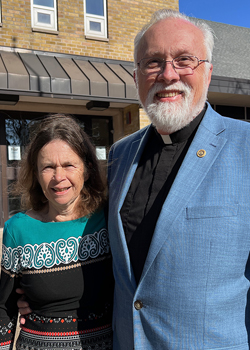 Our time among you will not be long, but I wanted to share a bit of who we are. My wife, Diane, was born in Montreal, Quebec, and I am a native of Minnesota. We met in university and were married the year Diane graduated. We have two boys, Peter and Brett, who are both married.
Together they have gifted us with five grandchildren ranging in age from a recent college grad down through 10th grade. 
We started our ministry back in 1975 when I took a position as a youth pastor. In one form or another we have served the church ever since. As a pastor for the last 39 years, I have had the joy of planting a new church, redeveloping another church and serving as the senior pastor of three other churches. In retirement, at the request of our synods, Diane and I have been doing interim ministries.